Here it is, pics of my new gear. I've used it once in a match already and am loving it!
The Pro Comp Kit consists of the zero cant, speed drop paddle holster and dual magazine carrier with belt clip.
(Click thumbnails for full size)
My old gear (Blackhawk Serpa CQC with Fobus dual magazine pouch):
New rig: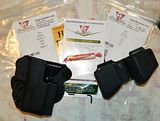 The funny thing is, it's the new mag carrier that I love the best! Much easier to grab spares than with the Fobus due to the increased space between magazines.