There are a lot of threads started regarding the selection of a holster. I thought I'd throw this together to help those that are new to carrying a firearm or even for those that are looking to expand their carry options. A holster should do two things. First, it should retain the gun so it can't fall out in a potentially dangerous or embarrassing situation. Second, the holster must cover the trigger so an unintentional discharge can't occur.
Essentially, there are two ways a gun can be carried: open or concealed. Which method you choose is up to you and must be compliant with all laws in the area that you are located in. Let's look at some holsters for open carry first.
For open carry, the firearm will be visible for all tosee. Usually this means the gun will be carried in a holster on the strong side hip outside of the waistband. Here are a couple of common types of outside the waistband (OWB) holsters. I should also note that these carry devices can be used for concealed carry provided you are wearing a garment long enough to completely cover the gun and holster.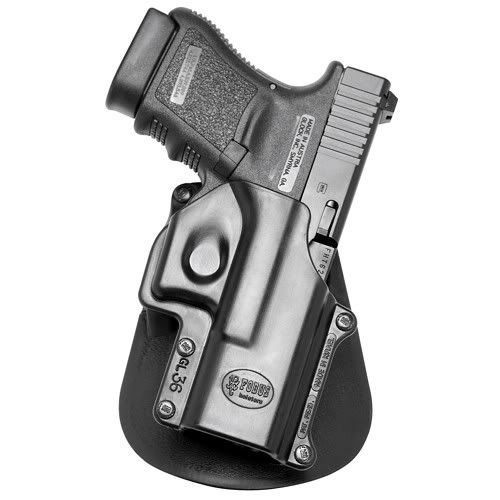 Above is a Fobus brand paddle holster. It's called a paddle holster due to the paddle shaped plate that is tucked into the waistband of the pants. This holster uses a "passive" retention system. The gun is held in by the way the plastic is molded around the trigger guard. It provides an quick and easy method of drawing but can be susceptible to the gun coming out too easily.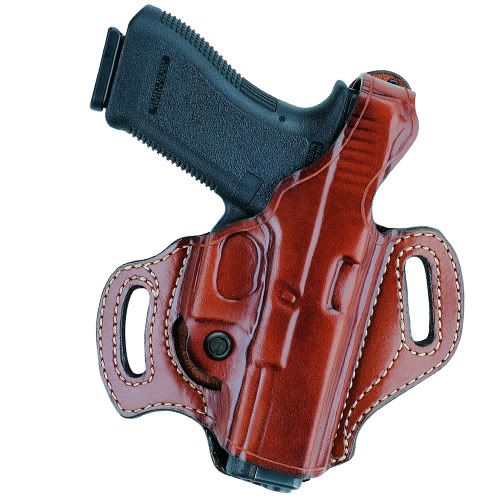 This is a common molded leather OWB belt slide holster. It called a belt slide holster because of theslots through which the belt slides. Notice the retention strap that holds the gun in. While leather holsters are generally more expensive than others, they usually last longer if they are made of high quality materials.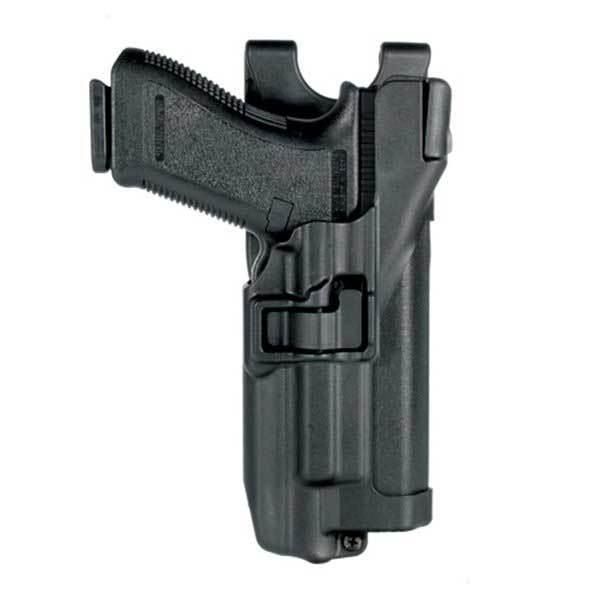 The holster above is a Blackhawk Serpa holster. Similar to the Fobus in construction, the Serpa has a unique retention system. The retention is actually achieved by a mechanical device built in to the holster. The button must be depressed before the gun can be removed from the holster which prevents the gun from coming out of the holster too easily but also adds a fraction of a second to the time it takes to draw the gun.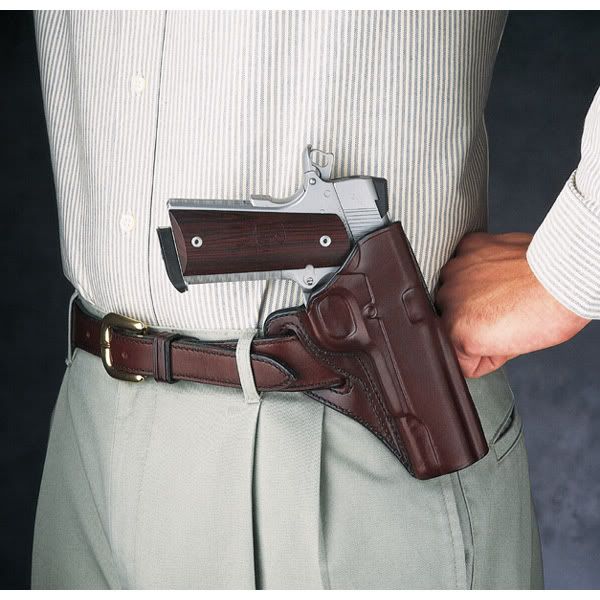 This is a crossdraw holster. It's called a crossdraw because you have to draw the gun across your body in order to use it. While these are very comfortable for those that spend a lot of time sitting or driving, they take a lot of practice to get used to and to be safe with while presenting your gun.