Discussion Starter
·
#1
·
I finally made it out to the range today, it was free rental day so I tried the Glock 31. It was awesome! I also shot my 23.
The .357 sig was nasty, and I loved it. Here's my target from 15 yards with it.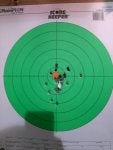 I also practiced trigger control and double taps with my 23. Here its the result:
The stray ones are the first attempts haha. But some of those are pretty darn close together! If say it was a productive day. It also makes me want to buy a 32 barrel for my 23 haha.